It's not a typo. You can make them with any page.
---
I don't think that's a prison guard.(taken at Dormeho Mage's Guild)
---
I caught this myself and fixed it. It was an issue with Chaos not putting the name variable in the right spot.
---
Posted to Death

Posts: 758
Joined: Wed Nov 12, 2014 9:48 pm
Location: A dungeon.
The Moonlight Mercy still has the same description as the Quickdraw. Unless that's intentional for some reason.
---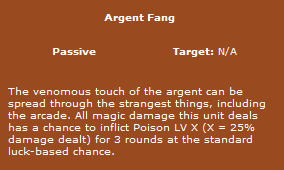 Super Sigrogana Fighter Legend 2 Arcade Edition Turbo.
*loud burp*
---
hot garbage is very nurishing
---
make sure to save when you're editting things
---
Frequent Poster

Posts: 102
Joined: Wed Apr 20, 2016 2:43 pm
Location: Cairo, Egypt
Contact:
In
Duelist
-->
Ghost
Promotion -->
Dark Imbue
Skill
Also shouldn't it be "with a basic attack or /A/ Ghost Axe skill" ?
[float=right]~ ~
3 G
r e
d n
~ ~[/float]
---
The secrety of defense.
This typo is in "An Unending Defense (1)" at least, as well.
---
attrocities
---