*not endorsed by Devourer of Souls or anyone really so 'official' in name only
So, among the plentiful new toys in the update there's the beauty that is the Salamander Sword.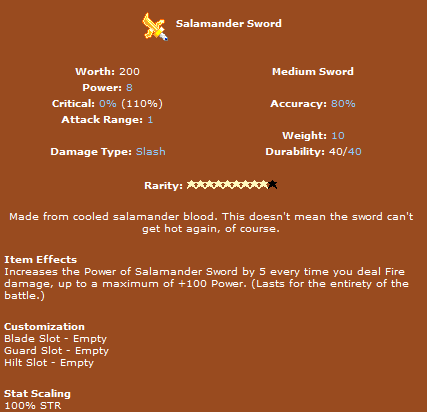 It's pretty soon after release, so let's keep the knee-jerk reactions as tame as we can, but that being said let's get some discussion going about the weapon since the general opinion is that it's potentially extremely powerful without some tweaks.
I don't have much of an opinion personally, though I don't think it would hurt the sword that badly to cut its maximum power gain by as much as half. (Not saying we should, just that it would still be pretty good.)
I DO, however, think the increase in power should probably be Scaled Weapon Attack instead of Weapon Power, lest we have people completely erasing each-other's Defense with Rampaging.
So, let's discuss.