Search found 10 matches
Search found 10 matches • Page 1 of 1
by Senna

Wed Jun 12, 2019 9:24 pm
Forum: Balance Fu
Topic: EXP discussion
Replies: 14
Views: 416
There is gonna be a problem with mob respawn unless he adds a var that states these set of people are good for a full clear despite the mobs returning. The only way that would work if he gives the player a command that let's them the summon mobs ONCE if the dungeon is already cleared and no one is f...
by Senna

Mon Jun 10, 2019 5:40 pm
Forum: Bug Reports
Replies: 15
Views: 415
Let us not remove this. Even if it's a bug, it saves people a whole lot of time considering not everyone can no life the game. Cleaning a single dung can take 10 minutes -2 hours, which some people don't actual have. SOME people want to rp with others and not everyone is into rp while doing dungeons...
by Senna

Sat Jun 08, 2019 1:13 am
Forum: Balance Fu
Replies: 2
Views: 100
The others I'm okay with, but Fight as one; that's waaaay too strong. That's like you AND the youkais getting 45+ hit, crit, crit evade, evade. That's overall disgusting, lol (Pinball about to be extra aids). The fact that people can just turn share pain off, use stuff like Drinker or any vampire we...
by Senna

Thu May 23, 2019 4:50 am
Forum: Balance Fu
Replies: 10
Views: 414
Kay so, I'mma make this one short! Can't be asked to type a wall on another Katana weapon. So here we go! OKAY! Some may be asking: What's wrong with this sword? Although the scaling is pretty decent (It ain't no 60/60), someone triggering the effect can easily change the tide of the battle. What re...
by Senna

Thu Apr 25, 2019 11:27 pm
Forum: Bug Reports
Topic: Cursed Allies
Replies: 1
Views: 117
They ain't wrong lol. I thought it was a mob only problem but it also doesn't work for players either.
by Senna

Thu Apr 25, 2019 12:41 pm
Forum: Balance Fu
Replies: 17
Views: 696
I didn't want to rant but... Of course I'm going to say don't nerf this because It's not crazy. If it was crazy, this thread should have been a thing the a week after MW got out like the Ghost thread and so on. Why? Because the moment it gets nerf and people start hitting for 200+ damage whereas bas...
by Senna

Wed Apr 24, 2019 1:24 pm
Forum: Balance Fu
Replies: 17
Views: 696
I don't think it needs a CD since it'd lost it's charm (Since I don't believe people can trigger it AFTER they end turn, I could be wrong, if that's the case, one round CD is fine so they can only use it once a round). It's not mandatory as people assume, people just have it because it's a compensat...
by Senna

Tue Apr 23, 2019 8:19 am
Forum: Bug Reports
Replies: 2
Views: 137
It happens with all map that has rain. The rainn texture changes whenever you're close to the edge of the map. Sometimes it's unbearable when it happens and it's night.
by Senna

Mon Apr 22, 2019 12:57 am
Forum: Bug Reports
Replies: 5
Views: 273
I wish that's the case but: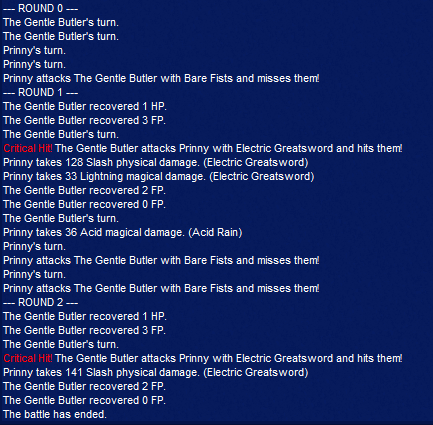 Done with the physical nerf instead.
Search found 10 matches • Page 1 of 1