Search found 10 matches
Search found 10 matches • Page 1 of 1
by Ranylyn

Wed Mar 21, 2018 10:21 pm
Forum: Balance Fu
Topic: Look ma', two hands.
Replies: 16
Views: 4166
Just throwing some random musings out there. Feel free to consider none, one, or all. New Talents for Category: Two-Hand Talent: Archivist: If equipped with only a single tome and no other weapon, changes the tome's element to that of the last damage type inflicted. Reason for suggesting it: Spells ...
by Ranylyn

Sun Mar 04, 2018 6:59 am
Forum: Suggestions
Replies: 33
Views: 6672
Honestly, while I don't have a reason to oppose this, I'm fine with things as is. For example: You're trying to give this big speech, right? So the person you're RPing with waits several minutes for you to type it, and then due to the length of the thing, they're forced to just ICly sit through it s...
by Ranylyn

Sun Mar 04, 2018 6:52 am
Forum: Balance Fu
Topic: Crystal Meth
Replies: 17
Views: 3886
I think the 100% + 70% SWA isn't AS crazy as it looks, honestly. Say your SWA is 100 and you have 40 skill/Will, for ease of math. 120% SWA is 120, and 100%+70% of Ice attack comes up to closer to 135 (rounding; it's late and I'm lazy.) It's not especially drastic, and Cyclone Spear also has the ben...
by Ranylyn

Sun Mar 04, 2018 6:42 am
Forum: Balance Fu
Topic: Durability
Replies: 15
Views: 3672
Well, I don't think durability should have that much impact in the terms of 1v1 battles. If we were to make it any more of an exhaustive resource it would probably really hurt the PvE experience more. This is my concern as well. As it stands, trying to level up a NEW, non LE'd basic attacker withou...
by Ranylyn

Sat Feb 17, 2018 4:15 am
Forum: General Discussion
Topic: Funny Quotes or whatever
Replies: 373
Views: 104585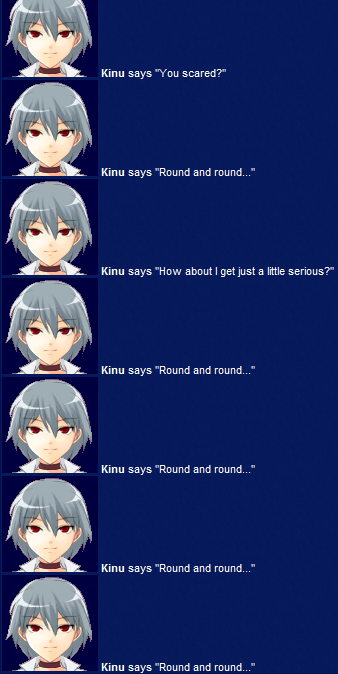 We spin her right round, baby, right round, like a spammed gust trap, right round round round.
by Ranylyn

Sat Feb 17, 2018 12:13 am
Forum: Bug Reports
Replies: 5
Views: 2009
The curate is still playing a support role, whether it's to Youkai or people. If supporting Youkai isn't passive, then Pacifist Boon should be lost the moment any ally deals any damage, since you're supporting someone who isn't a pacifist. By which I mean "lolno."
by Ranylyn

Wed Feb 14, 2018 5:21 am
Forum: Suggestions
Topic: Dwarf Statblock
Replies: 3
Views: 1515
My vote goes towards hybridizing Martial Training with the fact that Dwarves are known for being skilled smiths; instead of making it purely based on metal, it has to meet the following criteria: Definite changes: - Must have been forged by the user; the boost comes from the familiarity of having ma...
by Ranylyn

Sun Jan 21, 2018 3:09 pm
Forum: Balance Fu
Topic: Sigrogana Z
Replies: 16
Views: 4835
Something else I considered was having Meditate act like Power Up; making it a turn-ender that benefits from being used first. 3M = 50% Ski 4M = 100% 5M = 150% 6M = 200% 7M = 250% etc etc. This would, in essence, make it not worth using later in the turn, while not making it unusable by people suffe...
by Ranylyn

Sat Jan 20, 2018 3:48 pm
Forum: Balance Fu
Topic: Sigrogana Z
Replies: 16
Views: 4835
My biggest concern is the Meditate change to 7m; it'd make the skill unuseable to lower levels without Tactician yet. It'd be better to make it so Meditate has to be the first action of the turn and consumes all remaining momentum, regardless of if it's 6 or 12. (This would also prevent Duelist/MA r...
Search found 10 matches • Page 1 of 1