Game you were banned from:
Sigrogana Legend 2
In-game name (key):
Eziekieal, but there are 4-5 others.
Reason you were banned:
See below.
The length of the ban, if you know:
300+ years, I believe.
Who banned you, if you know:
Slydria, I assume.
Why we should unban you:
See below.
~~~~~~~~~~~~~~~~~~~~~~~
banned for the following reason: You have consistently broken rules-- including but not limited to godmodding and bug abuse-- and shown yourselves to not only refuse to change for the better, but have even failed to comply when a GM told you no. At this point, we have no choice but to throw you out.
Well there's a thousand things wrong with this. I'll have to go over them one at a time.
Rule breaking:
-Godmodding: What? We've had no cases of godmodding. The only situation I can think of is when we first were playing together and had a PvP situation at the arena. On our way to prison I used an alt to try and attack the guards so my main could escape. (I was told at the time that playing multiple alts was fine. I didn't know this situation was against the rules) So when that happened my guy escaped. Some people said I couldn't do that. So I messaged Slydria and asked about it, saying I would be fine going to jail if I really did break a rule, because I didn't know. I(all of us) was still new to RPing. He said I did break the rules and I was suddenly given a ban. An hour of explaining my case to him through PM's my 24 hour ban was lifted.
From that day on I have constantly PM'd Slydria when I am uncertain about a rule or situation. In fact I'm sure he's been annoyed with how often I want clarification on things.
-Bug Abuse: Sorry, what? None of us have *ever* done any bug abusing. We've only been accused of bug abusing by someone that is going around telling others that we have. Yet there has never been an actual situation where we abused a bug. I don't even know what bugs exist in the game ._. The only POSSIBLE situation would be that we had a gunner at one point use the bullet storm thing. I personally don't see how anyone can say that's a bug. Everyone says it's not, anyways.
Refused to change:
What? As I said earlier in the post after my initial accidental rule breaking I messaged Slydria (and a few other community members) with questions constantly, always improving ourselves so we don't accidentally break another rule. We also have 3+ pages of backstory for our guild that we spent plenty of time writing up. (
viewtopic.php?f=32&t=6497
) Even though we already planned to disband that guild and start fresh after the whole RP event last night.
Failing to Comply:
This final part is a bit of a mess, so I'll attempt to summarize it as clearly as possible.
Last night during our guilds tryouts event, about 20 players decided to force the door down (Slydria gave approval) and force us to RP and PvP them. While I personally found it annoying that they were allowed to do that, I didn't really mind. They came in and we did our proper RPing (though they kept trying to rush the fight while the rest of us wanted to RP a bit longer).
After the fight the guards were ready to arrest us. I had asked Slydria about us being able to suicide bomb our entire base, killing our own characters in the process. We'd rather all be dead than get arrested. But I was told that because we didn't have any hints towards hidden bombs that we couldn't do that. Even though it's common knowledge that a couple weeks earlier a group had strapped bombs to our building and blown it up (while none of us were even around-- Slydria had to PM me about it while I was out getting food). That coupled with the fact that we knowingly had our base in the middle of a city we were wanted in is *plenty* of reason to suspect that the invading party should probably look around before rushing to fight us. But they didn't.
I personally thought that was a good enough reason for us to be able to suicide bomb. But Slydria didn't. But before I could even do anything one of our members was frustrated at being forced to RP and wanted to die. So he force kicked everyone out and said it was the explosion. I didn't even have time to stop him.
Meanwhile all the players accepted this easily as the RP and added their own to it. Everyone seemed happy with that outcome. Our base was blown up and all our main members were dead. Hurray!
But then Slydria PM's me: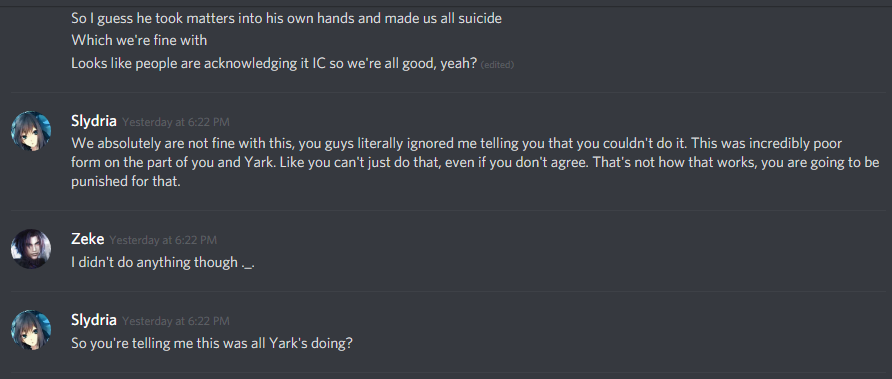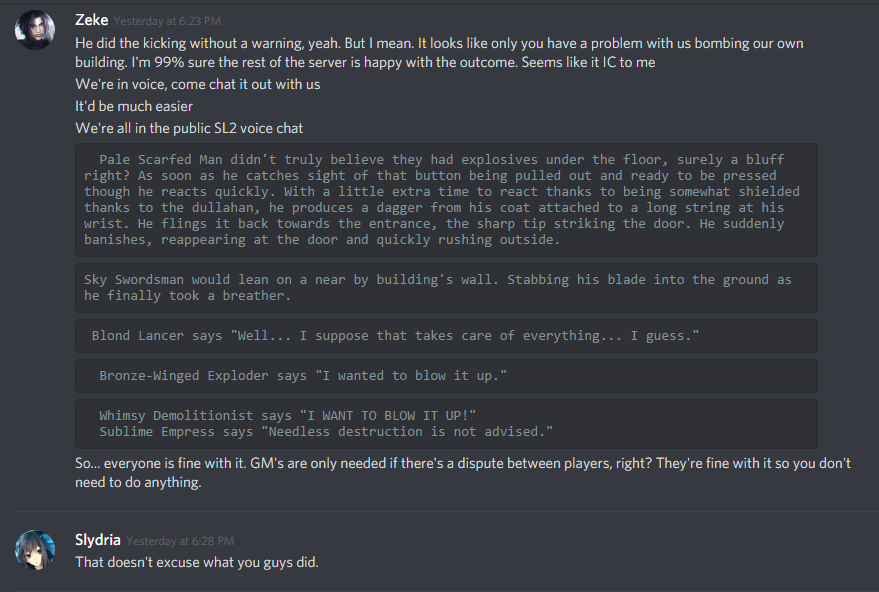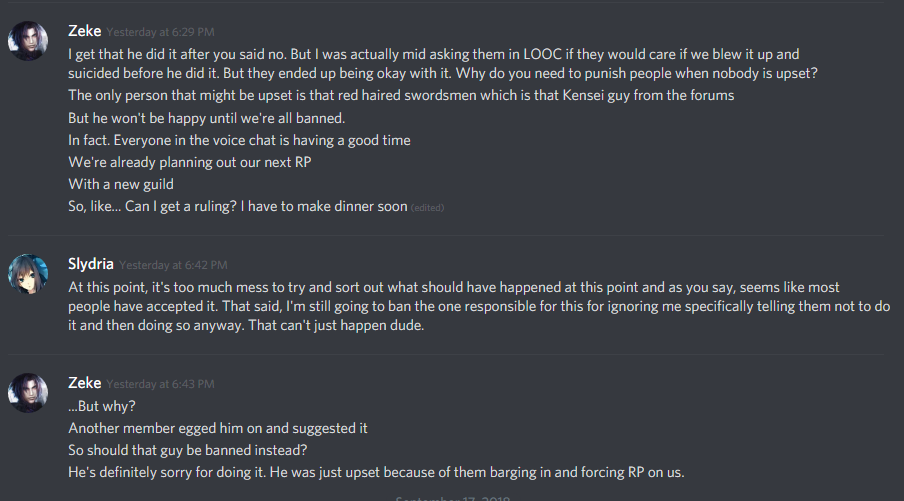 So after that we were ignored completely. Nothing from Slydria. An hour or so later a member of ours (while we're sitting in our locked house changing up our profiles and whatnot:

We asked in OOC what that was for but were ignored. One of us pinged Slydria in the SL2 server but they were ignored while Slydria was talking to someone else about something unrelated in the same chat.
Today:
So today as our final farewell to our old dead characters we decided to host a short little eulogy in town on a character that has never RPed with anyone (No IC link to Ephemeral). It was a fun little ending for us to our characters.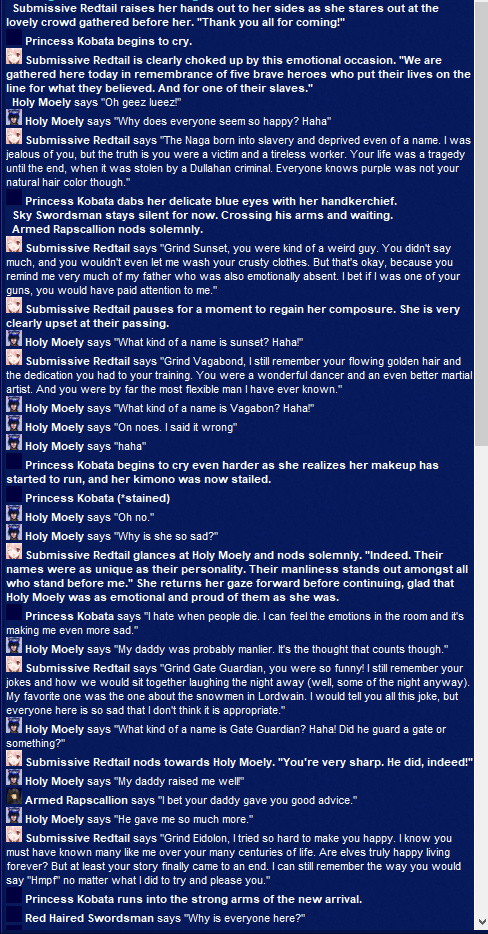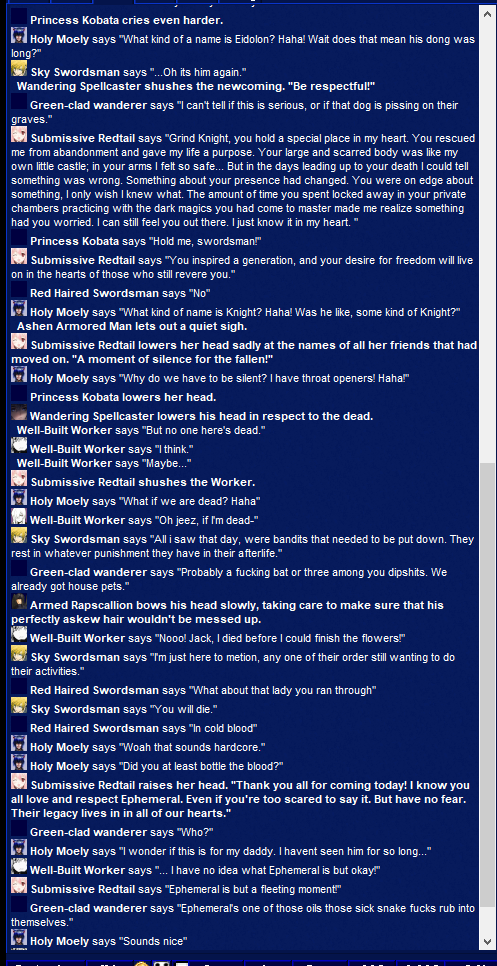 So before we even finished with this we were suddenly banned off 1 by 1 all for the same copy and pasted reason(seen at the start of this post).
So I'm completely unsure why we were all banned so suddenly when we haven't actually done any of the things listed above. All we have ever done is try and improve ourselves not only in PvP but our RPing abilities. None of us are experienced roleplayers so we all have a learning curve. Which I think we've been doing very well with it this entire time.
I'd like to request we all be unbanned, because the reasoning for this is unjustified.